TEL AVIV (BRAIN) — Dmitry Nechaev, owner of Sochi, Russia-based Triton Bikes, is asking industry suppliers and customers to continue doing business with his company, which he plans to reinstate outside the Russia.
Nechaev, a frequent exhibitor at the North American Handmade Bike Show, is well known in the American custom bike community. He holds Russian and Israeli passports and flew from Moscow to Israel this week. His family plans to join him in Israel this weekend.
He left while he could, as Western countries imposed sanctions in response to Russia's invasion of Ukraine. From pouring Russian vodka to ending sponsorship of Russian cycling teams, numerous organizations and individuals are making statements against the country.
He said he received some "bad" messages from outside Russia, but also more encouraging messages. He said that Russia had become more and more oppressive and it had become nearly impossible to run Triton from there.
"They lock down the ability to receive payments from outside Russia. PayPal and all that won't allow you to withdraw to a bank account. The exchange rate is so bad that it makes no sense to work" , he said on a Facebook video (below).
He said Triton depends on sales of its titanium frames to riders outside of Russia.
"I haven't received a single order from outside of Russia for about 12 weeks, which is extremely strange. This has never happened before," he said.
He has not publicly announced where he plans to set up a permanent store. "Elsewhere is free and democratic," he said. "Any other place is, right now, better."
He has repeatedly stressed that he does not support the invasion of Ukraine.
"I don't know anyone who supports him," he said. "We make bicycles. We love people who ride bicycles or any other bicycles, and we cannot support any aggressive action against anyone in the world.
American industry members said they would do all they could to support Nechaev as he re-establishes the business in a new country.
Chassis parts supplier Paragon Machine Works could no longer ship to Triton in Russia because Federal Express and DHL will not ship there, said Donna Norstad, chief administrator of Paragon.
"We understand that Dmitry did not start the war," Norstad said. "As soon as we can legally ship to him, we will. There are innocent victims of all this; it's very upsetting."
Framemaker Don Walker, the producer of NAHBS, said he expects the industry to rally for Nechaev.
"He's one of the good guys," Walker said. "It sucks to see him feel like people hate him for it, but the industry knows best and we all support him."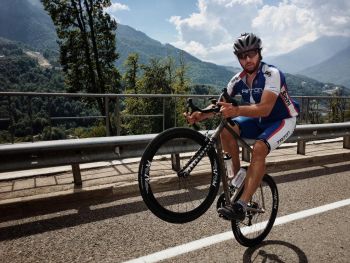 In an email to BRAIN, Nechaev said he and his company have many ties to Ukraine.
"Half of my family is from Ukraine. The Jewish part," he said. "So yes, although not of Ukrainian nationality, half of the family (mum's lineage) is from Ukraine."
"I used to organize bike trials competitions in Ukraine with my Ukrainian friend Vladimir Moga. We did it every year from 2006 to 2012. At one time, they were the biggest bike trials competitions in the world. .. More than 200 runners in competition.
"We had hundreds of people camping at the event site. Ukrainians, Russians, Belarusians, Moldovans and Poles. We were all brothers. No conflicts. Friendship. Over."
He said Triton's CAD engineer lives outside kyiv, Ukraine. "It is experiencing food shortages and multiplied prices on food," he said.
Nechaev's Facebook video was recorded outside Russia on February 28. On the video, Nechaev did not reveal his whereabouts for security reasons. On Diane Jenks' The Outspoken Cyclist podcast released on Thursday, Nechaev said he was in Tel Aviv with plans to travel to Jerusalem to leave a note in the Wailing Wall. He told Jenks he bought a car to pick up his fellow Russians from the airport as they fled the country.
Nechaev told Jenks he had a simple message for the industry.
"Since we are going to incorporate in other countries, I would like to ask our suppliers – and we have about 40 or 45 contracts with American companies – I suspect that at some point they could be pressured not to work with a Russian buyer and I can certainly understand that.There is nothing I can do about that.
"But I would like to say, 'hey guys, we're against this. We're trying to get out of this situation and kindly ask that you continue to support us with your products so that we can sell your parts on our bikes, so we can provide money for you and for ourselves and support our families," he said.