Parikshit traveled from Kolkata to Kanyakumari by bicycle to deliver the message of a pollution-free society
Puber Kalam Webdesk: – Growing up in a small village under Sabong Thana of Medinipur. Maulana Azade college education. Parikshit Bhuiyan is now a resident of Kolkata. Love adventure.
On Mahalaya day, at 7 a.m., he left for Kanyakumari by bicycle from Ravindra Sarovar in Kolkata. In this journey through 6 states, 5200 km, he will try to raise awareness about Save Soil and Fit India. This Bhuiyan trip has been tested in West Bengal, Odisha, Andhra Pradesh, Tamil Nadu, Kerala, Karnataka.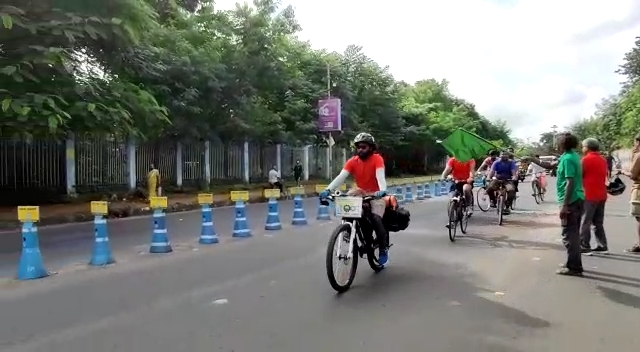 The love of cycling and the desire to travel – these two combined are the beginnings of "Cycling". That is, riding a bike outside of your daily job, just to ride a bike. Cycling has been around for a while. When he has time between work, he goes out with his bike.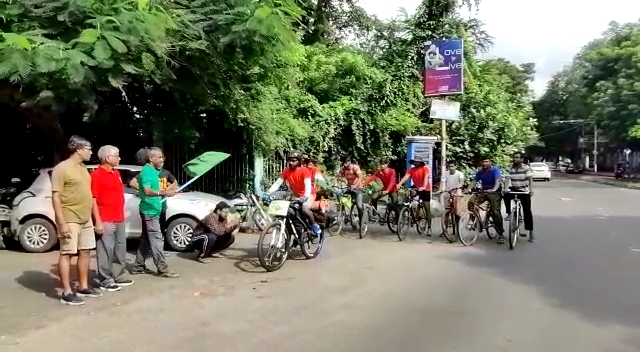 As of March 2022, the cycle route was from Kolkata to Jhargram, Belpahari, Jhilimili, Mukutmanipur, Bishnupur, Jayarambati and back to Kolkata. The approximately 544 km trip was not just for sightseeing. Many things that are constantly happening around him are marked in his mind. Among them, he was most concerned about "soil pollution" and "physical well-being".
Perhaps he was well aware of the soil requirements for cultivation in the dominant agricultural areas of rural Bengal. Parikshit can imagine how severe the effects of continued soil quality degradation due to pollution can be.
To maintain good health, it is necessary to exercise regularly and carefully. If the body is not straight then the mind is not straight and nothing can be done with the mind.
Along with traveling and cycling, he tries to promote and spread in his own way. If a person is conscious through this, that is also his achievement. Parikshit says any suggestion from you on this can make my trip easier.
Facebook Notice for EU!
You must login to view and post FB comments!