DUNEDIN – Location, location, location. Hard to find a better place for a bike shop than being on the doorstep of the Pinellas Trail in downtown Dunedin.
From a marketing point of view, the Kafe Racer is also running in high gear. This is because the owner is a successful car racer. Dunedin resident Jan Heylen won the Daytona 24 Hours in his Porsche 911GT3-R in the GTD class last month. He is also the 2021 winner of the Porsche Cup, which is awarded annually to the most successful Porsche privateer driver.
"In racing there are always ups and downs," Heylen said, adding that unlike other sports, there are a lot of variables. "Some years, some brands perform better than others."
Last year was good, he said, and he started this year strong with the win at Daytona.
He said his dedication to racing was not about the money. It is his passion for the sport.
"These are the times when everything falls into place and you win the big races," he said. "It's a feeling you never forget."
Heylen, 41, has lived in the area since 2005, from New Port Richey to Belleair. Over the years he got to know Dunedin, fell in love with the community and decided it was where he wanted to live, buying a house in town around seven years ago.
"I was looking for something else to do outside of my racing career because there was a lot of training," he said. "I had a little too much free time."
It took him some time to decide what else he wanted to do that would excite him outside of racing.
"At that time I was a cycling fanatic," Heylen said, adding that the country where he was born, Belgium, was a cycling hotbed.
"It's always been something I've been passionate about, but I never really thought about having a bike shop," Heylen said.
The Dunedin Cyclery was located where the Kafe Racer is today. Heylen contacted the owner and asked him about six years ago if he would be interested in selling the store.
"Very quickly after that we came to an agreement," Heylen said. "So here we are, it's been a good trip."
Business is "incredible," said Szandi Hirku, general manager of Kafe Racer at 998 Douglas Ave.
"It's actually our busy season. This morning we were out of bikes at 10:30 a.m.," she said. "We had 50 people on each side of the building waiting for us. It was crazy."
At this time of year, the bike shop is sold out every day at noon, she said.
"It's a good location and a good team and good people working there, and I think we've built something fun for the community. We're getting a lot of great feedback. It's going well," said Heylene.
Regarding his love of cycling, he had a tendon injury in his right knee which has kept him from cycling lately.
"The motor racing season is so busy that a year goes by quickly. It's hard to take enough time to take care of everything," Heylen said.
He also got married and went on honeymoon after the 24 Hours of Daytona.
The Kafe Racer offers the sale, rental, repair and tune-up of bicycles. Clothing, water bottles and helmets are also on sale. About 20 different brands of bicycles, including six types, are sold there.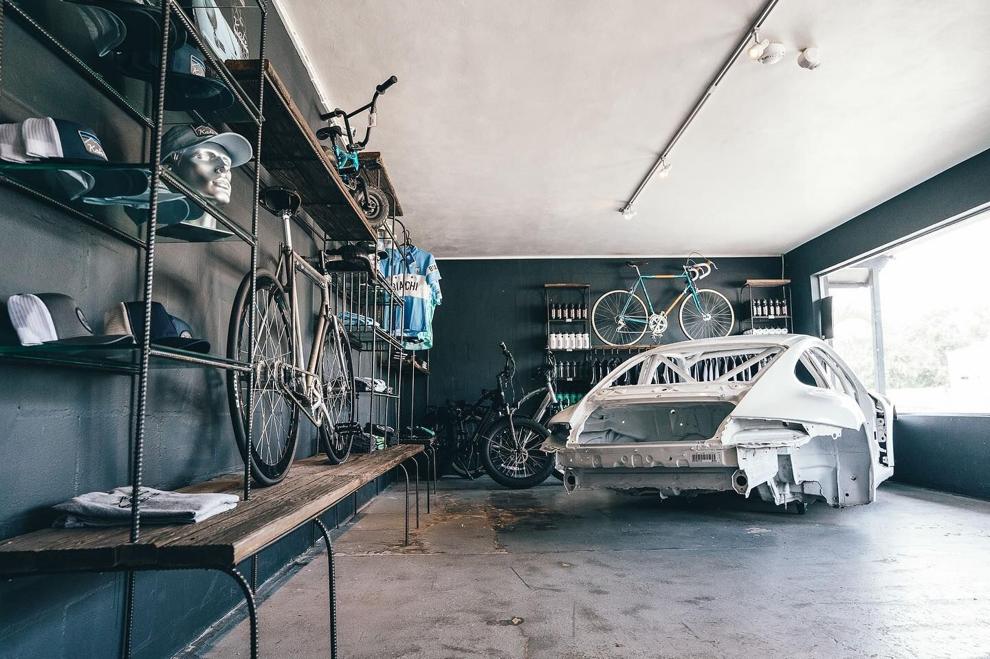 The interior of the Kafe Racer features a collection of racing bikes and a deconstructed Porsche in the first room to illustrate Heylen's career as a professional racing driver as well as his passion for cycling.
"So that (Porsche) kind of tells people that it's something different as they keep walking, seeing all the bikes. We were very lucky that he was very proactive during COVID. We actually have probably the largest inventory of bikes and accessories in the United States at this point," Hirku said.
As for the area, Hirku, who has been affiliated with the company for more than two years, said she loves it, enjoying all the events that take place there.
"The community is amazing," she said.
Same for Heylen.
"I love the Dunedin vibe and everything is within walking distance," he said, adding that he enjoys the markets and festivals.
"I love that we can hop on a bike from home and go downtown," Heylen said.
Although he is a racing driver, he likes the idea of ​​not having to drive all the time. He enjoys Dunedin's small town vibe and feels he has developed a good relationship with the town.
"I feel they're very engaged and trying to stay on top of things, making sure it's a nice place to live and a place for business to have opportunities. I don't think we're going to move from so soon," Heilen said.
He tries to visit his family abroad twice a year, whether they visit him or he visits them.
He still enjoys running as much as he did decades ago. If he and his team are competitive, the sport is fun for him.
The coffee side of the business also receives loving care.
"At the end of last year, we finally had beer and wine. So we had great coffee and we stock up on ice cream from a local store in downtown Palm Harbor. And the pastries come from from a source here in Dunedin. It works really well." Hirku said.
The cafe is also dog friendly and treats are available for them. Trailers are available for cyclists who want to take their dogs on the rides.
The boutique is open 7 days a week, from 10 a.m. to 6 p.m. on weekdays and from 9 a.m. to 6 p.m. on weekends.
When asked if he plans to open another Kafe Racer, Heylen said it was unrealistic to expand further with his other commitments. His next race is the 12 Hours of Sebring in mid-March.
"There have been discussions (of expansion)," he said. "There's definitely an interest. I wouldn't be able to do it. Not enough hours in the day."