When it comes to cycling cities in the United States, San Francisco is often at or near the top of the list. And it looks like it might stay that way for a while thanks, in part, to the work of the San Francisco Bike Coalition and his success in securing the city's first car-free thoroughfare, as well as his continued advocacy for safe streets.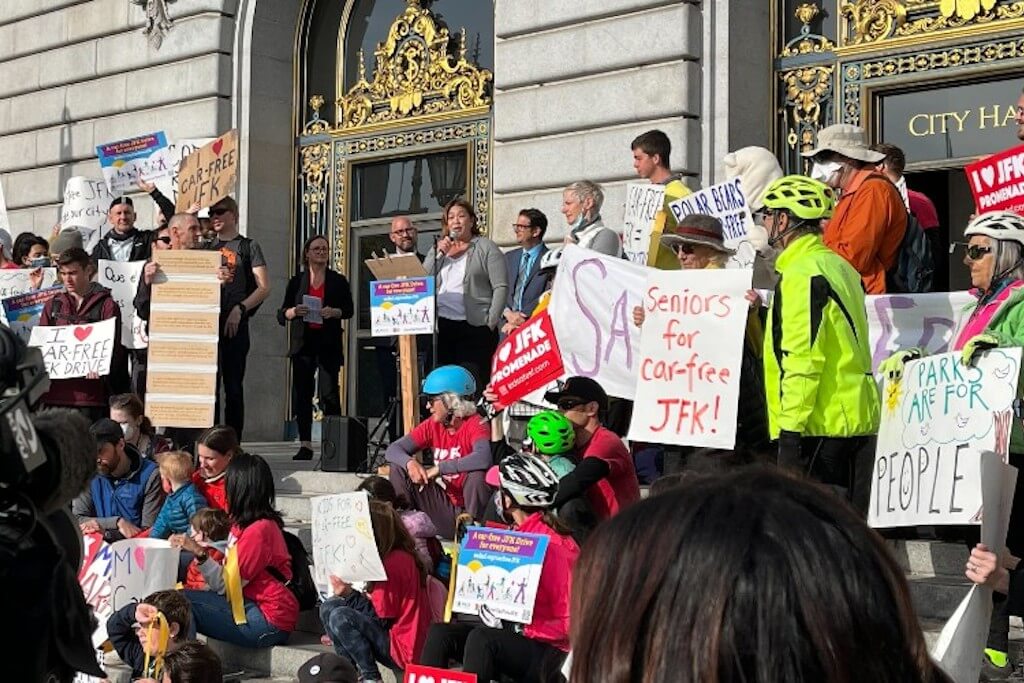 For the past 45 years, the SFBC has promoted cycling for everyday commuting, and this year it got a new executive director in longtime coalition member Janelle Wong.
It was Wong and the SFBC who successfully lobbied to finally create a 1.5-mile car-free drive from a slice of John F. Kennedy Drive that winds through beautiful Golden Gate Park, which is the third most visited park in America.
This victory is the result of decades of work by past and present SF Bicycle Coalition staff, volunteers, community members and advocates.
"I think the San Francisco Bicycle Coalition started on this when we were a very grassroots organization, which means there were maybe five people 40 years ago. But you know, it started before that, in the 70s, for people to use JFK for rollerblading," she said, "So it took decades, and we got little bits over the years ."
Wong explains that the first victory was closing roads on Sundays for six months of the year, then 12 months, then Saturdays were added and so on. And that was decades ago.
"We always wanted it to be closed to cars," says Wong. "I think as an organization, I think as a member, we've always wanted this one and a half mile stretch of road to be a priority space for people. And I think the emergency ordinance shutting it down, I think for the first time, people got to see what the seven-day-a-week, 24-hour closure of that street looks like and what it looks like.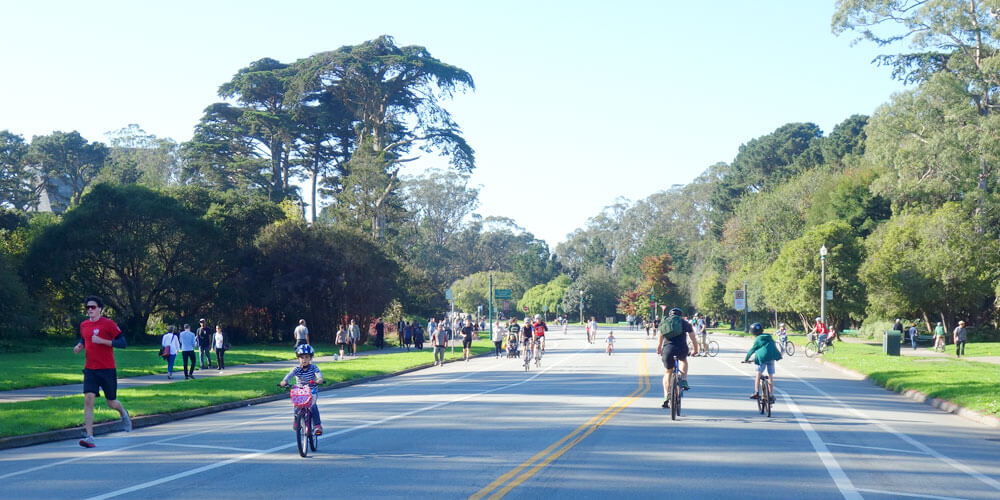 Apparently that was pretty good, because the San Francisco Board of Supervisors, in a special joint meeting with the SFCTA, voted 7-4 to approve Mayor London Breed's car-free parkway legislation.
Wong grew up in Los Angeles and rode a bike as a kid, – Huffy, banana seat – and again in college, but gave it up for a while before moving to San Francisco and founding a family. Then it clicked.
"I needed to find a way to get to work without having to drive a car and exercise as a mom trying to get back into shape," Wong says. "So I got back on the bike because near my house a new bike lane appeared on Seventh Avenue. One day it wasn't there. made this possible.
She researched how this bike path got to her doorstep and learned of the (ridiculous!) three-year injunction to halt all cycling infrastructure until this urban cycling paradise is approved. And she learned that the organization that made it possible was the San Francisco Bicycle Coalition.
"I think that day I became a member and I've been a member of the organization for 15 years now," she says, adding that she started working in the organization as an operations manager in 2014. "I guess you could say I was going through a transition in my own life. And I wanted to give back to a cause and a mission that I believed in.
This year, Wong took over as executive director.
"The old AD is a friend of mine. And I was happy and happy to support him in continuing to move this organization forward," Wong said. "And then when he left, they were looking for someone And yeah, I thought, well, maybe it's time for me to be the leader of the organization. And the city is changing a lot, as you know.
Currently, the coalition has over 10,000 members. And while JFK Drive is a huge win, there's still a long way to go.
"Obviously we would like to create more people-centric spaces in parks. It's amazing, I think, for everyone's mental health and well-being, not just for cyclists, but for all residents of the city," Wong said. "And I think the goal now, at least in the minds of our organization, now that we have this priority space for people that cyclists can use as part of their travel route, is to create a network of slow streets where they mainly put cyclists and pedestrians use them in priority on these streets. A network that reaches every corner of the city and allows people to change modes of transport and travel. »
It's a challenge in any city in North America, but San Francisco presents the added challenge of some very steep streets. So we asked what is the best way to navigate this altitude?
Well, there are ways to get around the hills, although sometimes you have to go a little further," she says. "The advice is always try to find a low gear and just try to ride as slow and steady as possible. Some hills just aren't doable. But you know, I think by continuing to do them, you get in pretty good shape here just riding.
Asked about San Francisco's ranking as one of the most bike-friendly cities in America, Wong agrees but notes they can do better.
"As someone who's been riding in this city for over 15 years, you know, I always have concerns about my 15-year-old son riding his bike alone in the city without me," she says. "I prefer that he take public transport. So in some ways we still have a lot of work to do. I think that in a city the size of ours, it is possible. But I think overall San Francisco has come a long way compared to other American cities. So we belong on the list, but we certainly have a ways to go.
And she understands that the shift in transportation modes won't happen overnight unless, of course, gas prices continue to soar. For some, that might be one day a week on the bike to work, and that's okay. Everything is progress.
"I recognize that not everyone wants to ride a bike every day to get around like me," Wong says. "But if we can get more people to use alternative means of transport other than the private vehicle in our city, I think that will do wonders not only for our climate goals as a city, but also I think not only for the overall livability of our city. ."