I used parts from different bikes. The front disc is from a Bajaj Pulsar 220 and the rear rotor is from a Royal Enfield Classic 350.
BHPian TechSavvy recently shared this with other enthusiasts.
Introducing EDROIT, a one-of-a-kind custom e-bike
Prologue
I had the idea of ​​making my own electric bike for my dad a very long time ago, about 3 years now. Initially, the concern to find a good quality battery prevented me from taking the plunge, later it was the cost. But this summer, back from college, I didn't think twice and dived straight in and gave myself two weeks and ordered the main components – the battery and the hub motor.
After the parts arrived, I was pretty damn excited and just wanted to start building, but faced a lot of complications – one being also my summer course which ended a month after I received the parts.
I built the bike on the RX100 chassis at least as much as was left in the final version. This scrapped bike was my dad's in storage for 20 years and getting it out himself took a long time. If someone asked me how long this build took I might say a lot not because it took time to build the bike itself, buying parts, custom fit on the frame, the soldering, cutting and then changing the components that didn't fit itself took maybe 1 month.
Dive into the data sheet
This bike runs on a 3000 watt hub motor, used for its "easier" installation and because this hub motor was higher quality than the standard belt drive BLDC motor I found. Although I originally wanted to put in a belt drive system so I could play around with the gear ratio and do some wheelies, a higher quality component hub motor outweighed that requirement.
At the battery level, it runs on a 72V lithium phosphate battery with a capacity of 42aH. I chose phosphate over lithium-ion because of its charge cycle life which is almost twice that of lithium-ion. This battery is certainly much bigger and heavier (about 5 kg more) than the same lithium-ion counterpart, but its main advantage is that it is much more user-friendly because all I care about is to give it full throttle all the time and it would have wasted the lithium-ion battery much faster.
The bike has a load capacity of 300 kg. Tops out at 80km/h (tested) and has a range of 70km, range has not yet been tested, but even pulling all the time it still gives me 40km and still some tension. Although, I'm not really happy with my selection of batteries, as the company's after-sales service is horrible. A 72v battery charges up to 82v but my charger stops it at 80.5v and i only drive it up to 73v although it can be discharged more for some range than i actually have experimented and it once dropped to 64V where the maximum current was very low so there was hardly any pull in the motor.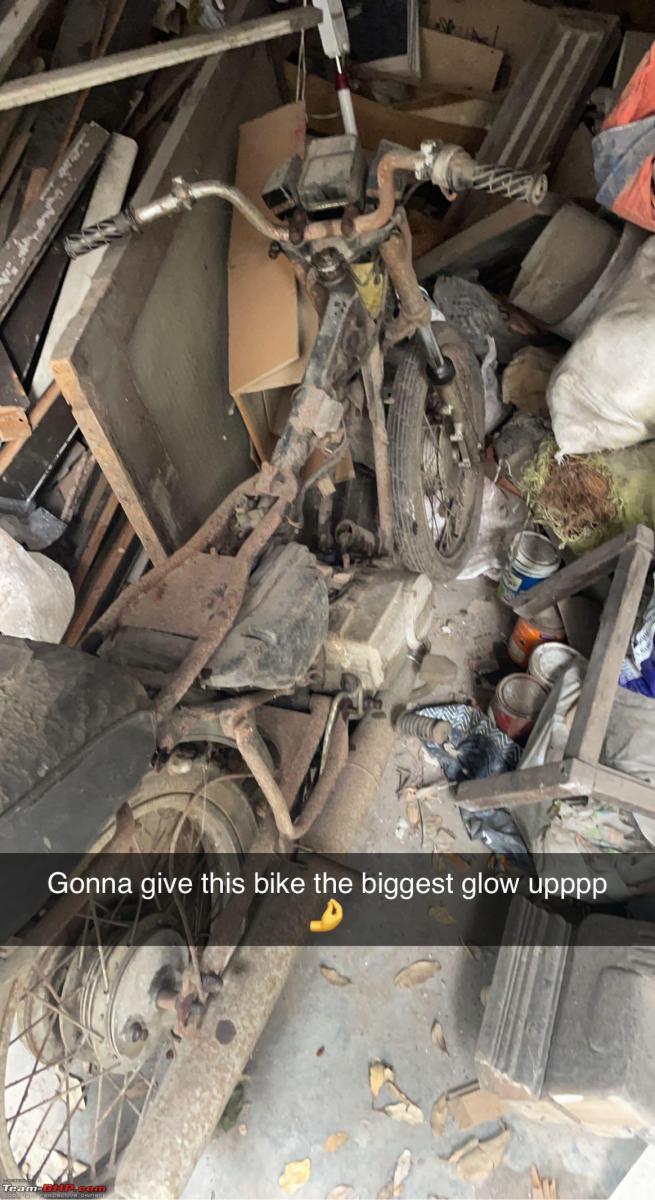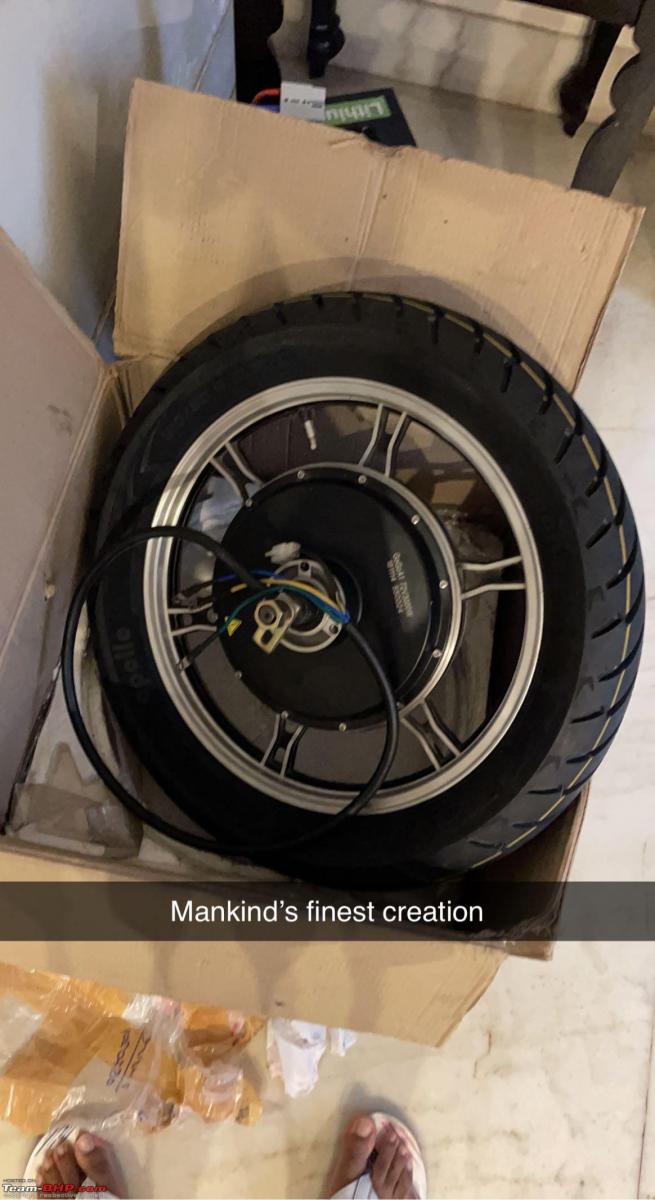 What's personalized on it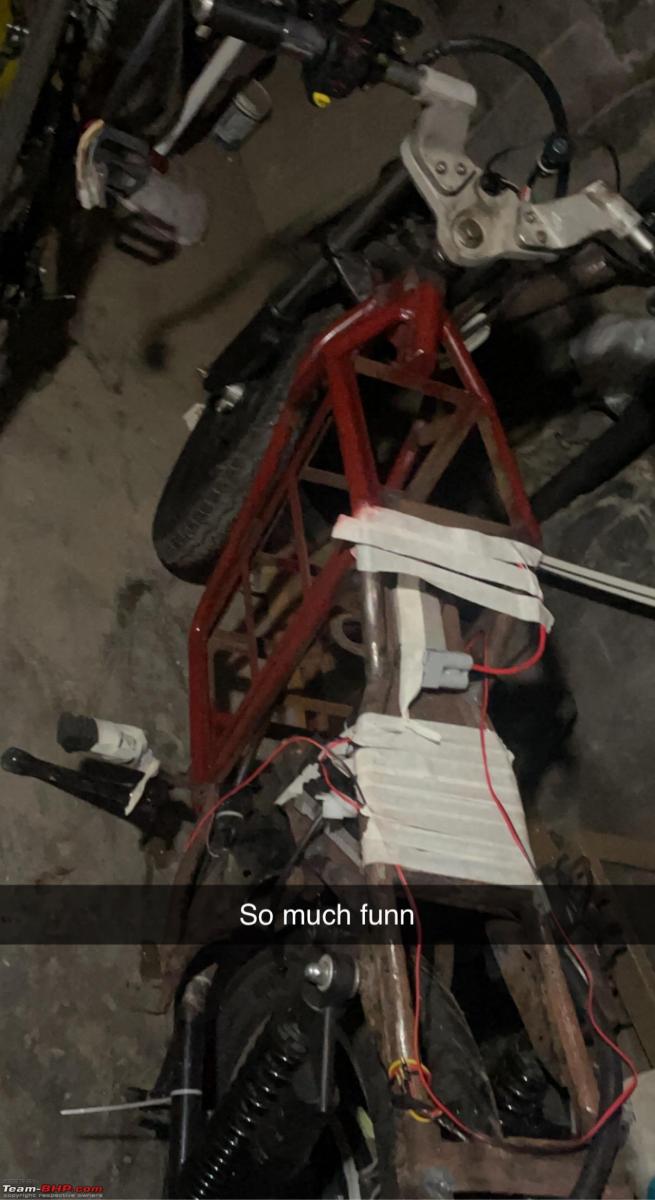 Basically everything. Let's go one by one. Swingarm, yes it's a local RX100 swingarm but it's cut and lengthened because I put a wide Apollo 120/80 R17 radial tire on the rear (my bike looks sexy only because of this meaty tire) so accommodating it was a challenge.
Frame. Yes. The battery would not fit. Basically about a dozen frames I've tried, so I opted for the RX100 frame, cut to keep the curb weight light. Look at the pictures and try to figure out the difference yourself because there are a lot of things that went wrong behind the scenes that I can't type because I don't want to type and make this blog long but I do also don't want to demotivate anyone if they try to build something like this.
Lighting department? Yes. Put dual fog lights up front, great looks, basic KTM indicators and a sleek taillight. Fairly simple but more than does the job. In fact, I find it classy, ​​I don't know about you.
Rear suspension? Yes. Got dual gas shocks from the Pulsar 220. Front fork? Yes. From the Pulsar 150.
Tires? As I mentioned the rear tire is an Apollo aplha s1 radial 120/80 and the front is 100/80 nylon, both R17, excellent tires and wider than recommended.
Brakes? The difficulties I had to go through to make this bike, haha. Essentially the brakes work like this in a scooter or any other e-bike, both with the use of hand levers. As I have a front and rear disc, it was a challenge. I had to get a left hand master cylinder and brake line long enough to go from the front handlebars to the rear brake caliper. Braking performance is strong as I use a Pulsar 220 front disc and a Classic 350 rear disc so these brakes were designed to stop bikes over 150kg at speeds over 100km/h but as this bike tops out at 80km/h and doesn't even weigh 100kg (that's what I'm counting from my quick math), you get the point…
Talk about driving feel
I have personally ridden the Ather 450x in Delhi and this scooter might accelerate quicker but is nowhere near the comfort and brutality this bike offers. Same for Revolt RV400, a week after riding this bike everywhere I took my dad to test this bike to compare it with my bike and EDROIT is 60 faster and the riding posture is so much more comfortable and practical.
This bike handles like a dream, nothing to complain about. It has incredible torque, not enough to lift the front wheel, but is a master at closing gaps from bumper to bumper. Essentially it's as fast as my Burgman 125, but the way it delivers that power in complete silence and when you let off the throttle it feels like you're soaring through the air.
Let me elaborate and try to paint the picture as much as possible. You ease off the throttle, you're at 60, there's no traffic ahead and it's a nice cloudy day. You don't mind tire noise, there's no vibration on the bike, so you feel disconnected from traffic, so you don't mind the horn, and you don't feel the rush and rush of work . in your mind. The wide tires grip so well that the bike feels weightless. You have a straight seating position on the wide handlebars, you don't have to worry about shifting gears or using the clutch, everything is easy, everything is smooth, then add the icing on the cake, the novelty factor who never dies because everyone and i mean everyone is watching you.
Try stepping into these nice shoes and you might just figure out what this bike is all about.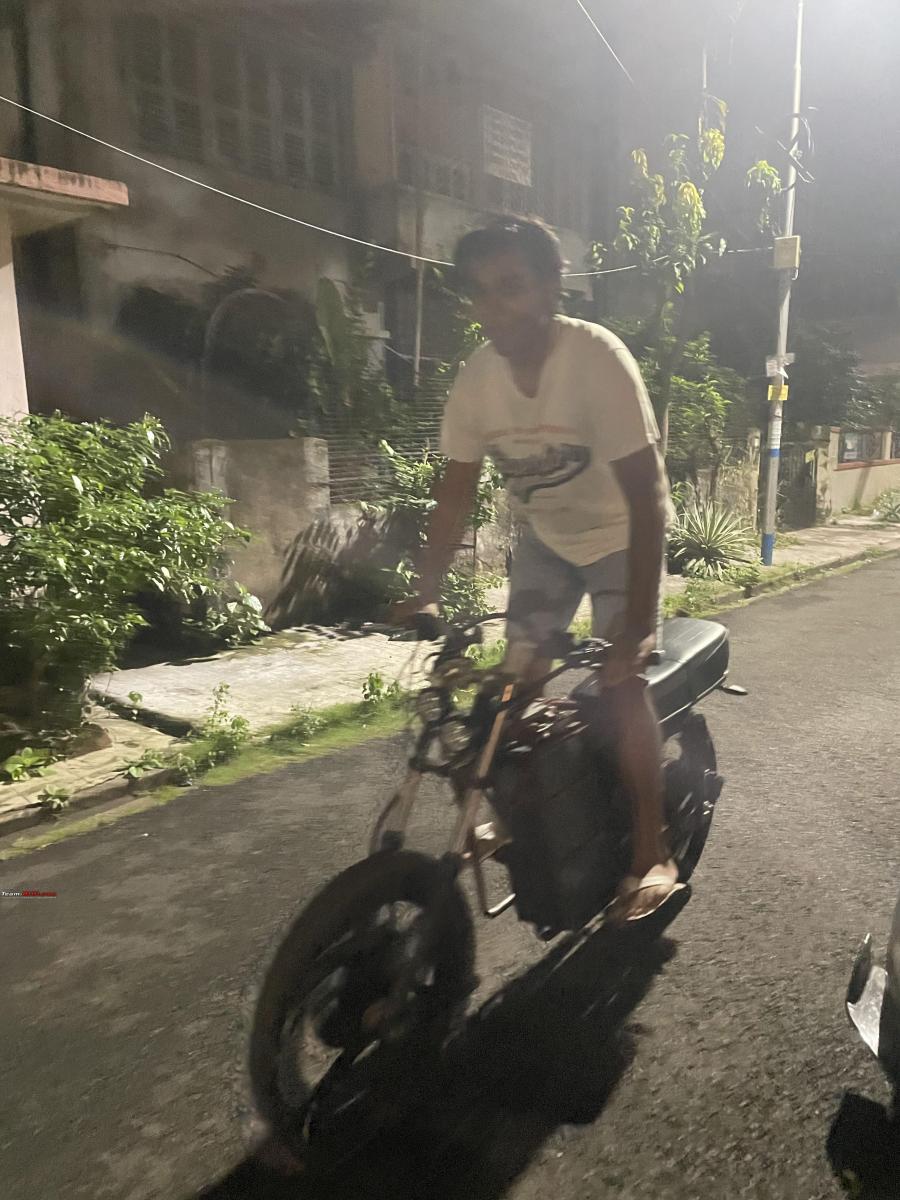 Even when you want to talk about traction you don't mind going full throttle on this bike all the time like you would mind going in an ICE powered bike because this one is vibration free and the annoying break in of some bikes at low revs in traffic is not there and hard acceleration and hard braking in city traffic is tiring in normal scooters and bikes and can also be annoying, but that's definitely not the case in this RIGHT.
I want to keep this post short, if I missed some details please let me know as answering the questions would be more thorough than putting it all in one big read.
Remark
There are two reasons why I made this bike, I have a lot of hate making this bike from local vendors I used to buy the parts from, people who saw me build the bike, hardcore fans of the RX100, etc. , I do a big quirky electric project almost every year and this time I wanted to mess around with electric propulsion. Second, my dad is a big fan of bikes. He owned this RX100, an RD350 and would have continued to own more modern bikes, but he injured himself 20 years ago which made it difficult for him to understand the sensitivity of the rear brake on right side mounted bikes. . This solution takes care of this problem. He has been riding scooters for 20 years and loves his Burgman more than my Elantra. I find it a little crazy to believe, although Burgman is a great scooter, I can't believe how well it handles. Anyway, I'm happy to report that I did a good job upgrading his vehicle.
Disclaimer
The mechanics of this bike are sorted but there is still some embellishment and wiring which would be done later as I had to leave for college and oddly enough I worked until the last day but everything one summer was not enough to finish this bike. The next step is obviously to paint it, think about the fuel tank and put in a better smaller seat because that stock RX100 seat is a little big and eats the bike.
A bunch of video links
Link 1
Link 2 – In this video the battery cage was not welded so there were a lot of rattles so I couldn't navigate at high speeds. Also, I only rode with the front brake on, so a boring ride, but you can still assess the ride quality.
Link 3
Link 4 – A little clip of me trying to learn how to spray paint the bike to save frame painting costs, but also because I didn't have time to do it professionally.
Link 5
Link 6
Link 7
Check out BHPian's comments for more ideas and information.